Whether you stay on top of trends or not, there is one major trend that is announced each year that is worthy of everyone's attention. It's a trend that stays in style, no matter the season, and it's a trend that you'll constantly see popping up throughout 2018. What is this crazy power trend, you might be wondering. It's the Pantone Color of the Year, of course!
But first, are you familiar with Pantone and their elusive color of the year? Let's quickly explain it for those who might be unfamiliar.
The Pantone Color Institute is essentially the authority on all things related to color and style. To put it simply, they provide a standardized language for people in the industry to speak on color. There are many technicalities to the work that the institute does, but most important to us is their color of the year, which is selected each year to act as a symbol for the sign of the times.
This year, Pantone has chosen Ultra Violet as the color of the year. It's a vivid, blue based purple that represents creativity, innovation, and a future full of exciting possibilities.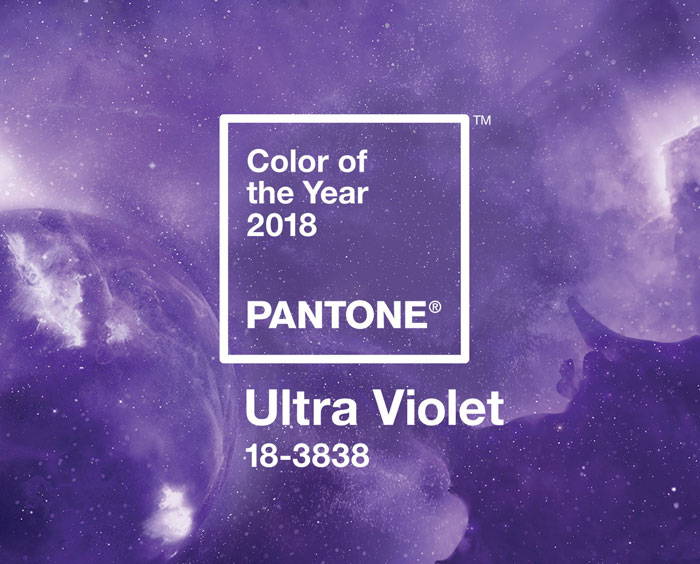 Your next question now might be: how am I supposed to adopt such a vivid color into my wardrobe?
Good question.
For some, such a bold color will feel natural, while for others, it might take some more experimentation. Regardless of which category you fall under, though, we have all the style tips and pieces of inspiration that will get you well on your way to being the most stylish man in the room, no matter the occasion.
Let's dive in!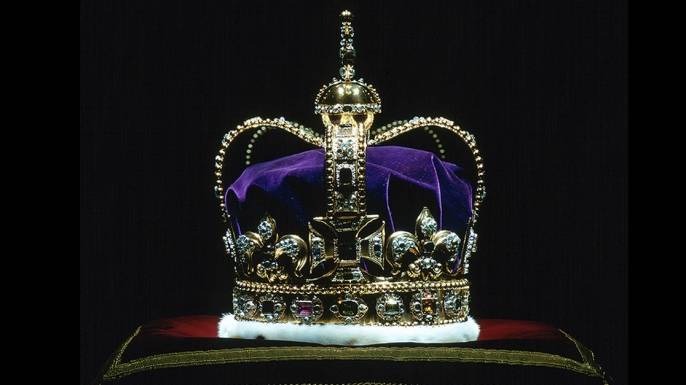 First things first, let's rid ourselves of any negativity we have surrounding the color purple, okay? For those of you who aren't familiar with wearing purple on a typical basis, or feel it's more of a feminine color, it's time to think differently.
While a lesson in history might not be what you're looking for right now, just know that the color purple has always been associated with wealth, power, and royalty. In fact, during the 16th century, it was actually a law that only members close to the royal family could wear the color purple.
It is because of this history, that to this day, the addition of purple into an outfit automatically gives that look an edge of luxury and sophistication. Wear Ultra Violet with pride. It might just be the style edge that you've been looking for in your wardrobe.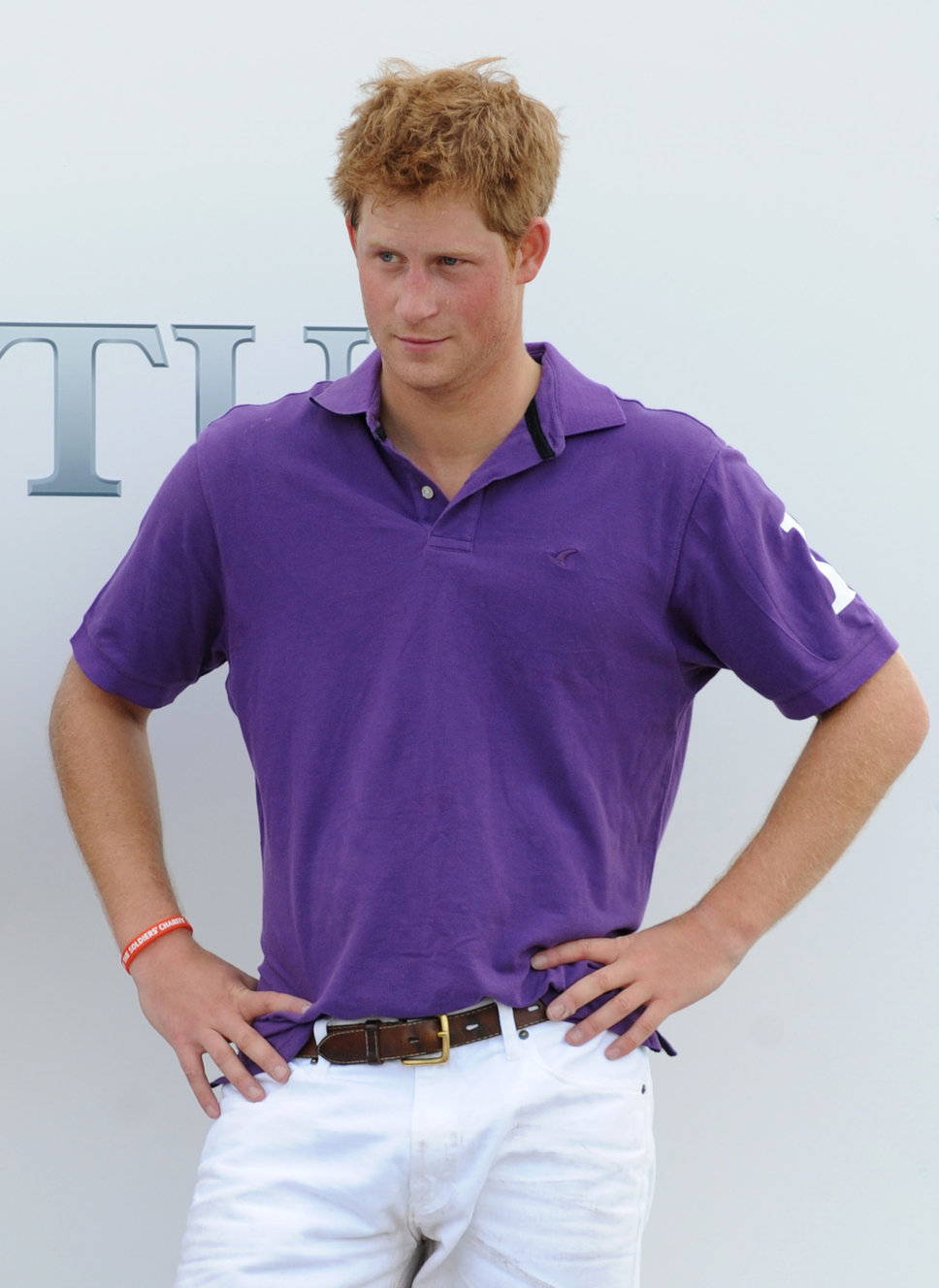 Start by accessorizing
Having said all that, just because Ultra Violet is the color of the year doesn't mean you have to dress yourself in head-to-toe purple. You can easily start by incorporating subtle pops of purple into your wardrobe, and then work your way up as you begin to feel more comfortable with the color.
For example, if a vivid purple top feels like too much, start with a tie. If that still feels like a bit much, start slow with a quirky pair of purple socks, as shown below. The purple doesn't need to be on full display in order to make an impact. Just that subtle amount of purple peeking out from beneath your pants will do the trick.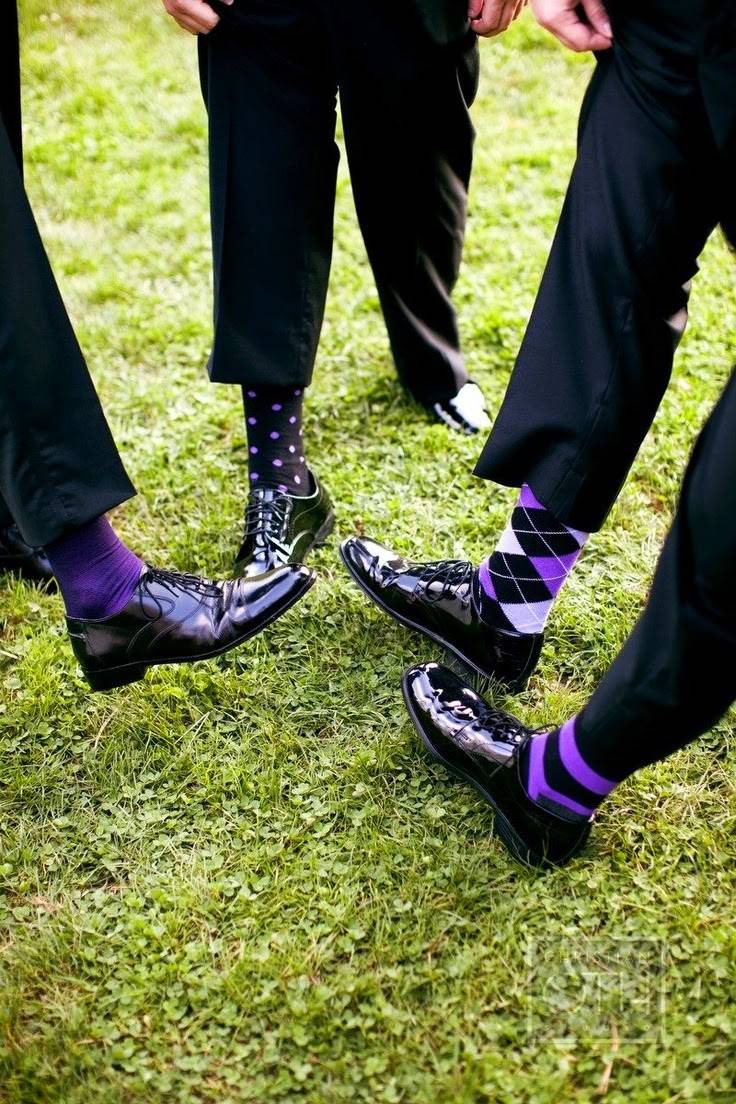 Don't miss this style opportunity
While this is certainly a color that any man can embrace, we want to specifically talk to all the dark haired gentleman out there. For those of you with dark complexions and hair, Ultra Violet is a particularly well suited shade for your coloring. By wearing Ultra Violet close to your face, you'll make all your dark features pop, giving you that smoulderly look that all men try to achieve. So go ahead, throw on a top in Ultra Violet, or get real fancy with a tie, and you'll be attracting all the right attention. Guaranteed.  
Be bold and over-the-top
If you're the kind of man who likes to be bold and over-the-top with his fashion choices, having the Pantone Color of the Year be purple based should be the answer to all your style dreams.
Why?
Well, because purple is historically associated with royalty and power, as we discussed above. It's that royal vibe that comes naturally to purple that makes it the perfect style option for those who enjoy the finer things in life. Whether that means wearing an all purple suit, as shown below, or incorporating purple silk, or even throwing in some purple velvet can all give an outfit an extremely luxe feel that we fully support.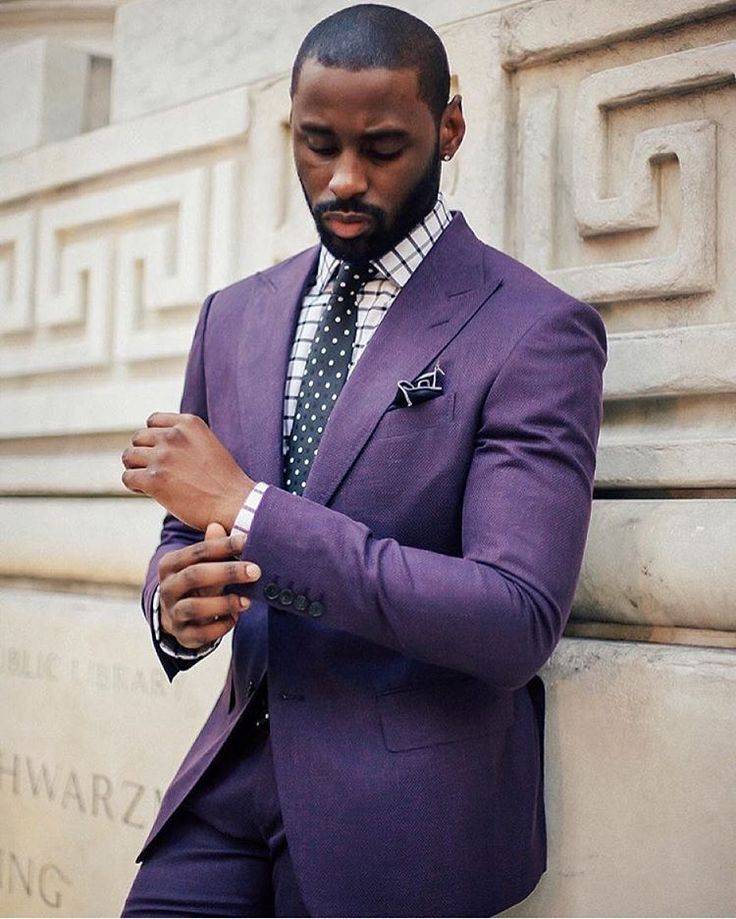 Stay true to your style
Taking everything that we've said into account, there's one piece of style advice that should never be discredited....
And that is to always follow your style intuition, regardless of what the trends tell you. When you dress exclusively for the trends, you ignore your personal style, which often leaves an outfit looking awkward. When your look doesn't look natural, or you don't feel comfortable in it, trust us, it will show.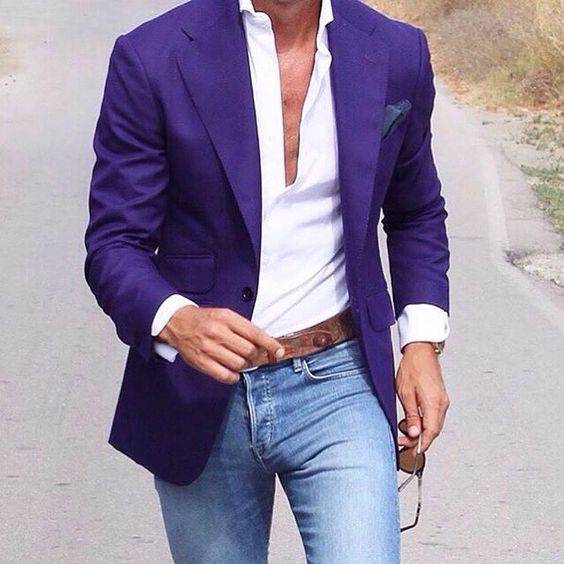 So, instead of trying to force Ultra Violet into your life, find ways that naturally work with your own personal style, or leave it out completely. For example, if you have a punk rock sort of style, work Ultra Violet in with a pair of Converse running shoes. If you're more formal and trendy, wear Ultra Violet in a tie. If you're casual and laid back, find yourself a cozy hoodie in the color.  
When it comes to style, all fashion forward men know: it's all about striking the balance between being bold enough to try new things, but also being intuitive enough to know when you're pushing it.
Learning how to discover that balance? Well, now that is just up to you.