How To Style A New Year's Outfit, No Matter What Your Style
Posted on 29 December 2017
New Year's Eve is right around the corner, and you know what that means. It's time for champagne, parties, and of course, fashion. Whether you're a man who is naturally fashionably inclined or not, today we have four different styles to help you put together your perfect look for New Year's Eve. So really, your excuses for looking anything but perfect are non-existent. Find your style and take notes; your New Year's date will certainly appreciate it.
 
Fashion Style: Classic + Real
Not all men love fashion. Not all men have a distinct personal style. And yet, most men want to look good and put their best selves forward. Is this you? If it is, keep your cool; we know putting together an outfit can be a struggle. But no worries, we've got a New Year's look that isn't too wild or trendy, but is still going to ensure you look great for your night out. Classic fashion has never looked better.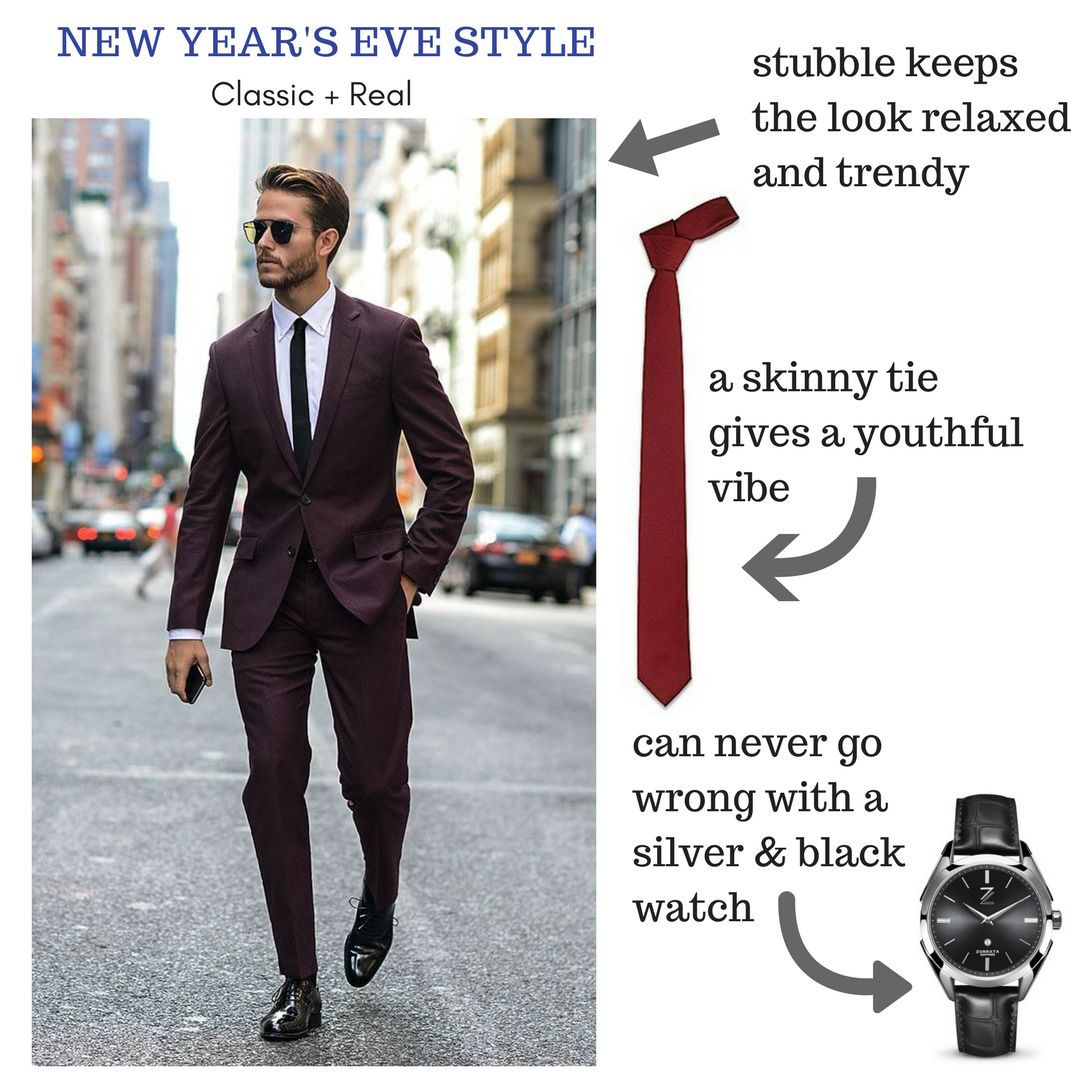 Style Tips  
If you're buying a new suit for the occasion, we highly recommend getting your suit tailored. A well fitted suit can completely chante your look.

When in doubt, always wear a suit jacket and tie. They can easily be removed if necessary, but they can't be added.

Pick a suit color that you feel confident in. What's more important than color is fit.

Try a skinny tie if you want a look that's more youthful.

The addition of a watch is always a good idea. It gives you a subtle fashion edge, but still keeps the look relaxed. Click here to shop

our

Academy

Watch

, shown on the left.

Keep it real with a little stubble on your face, but always, always, always trim to avoid looking like a complete slob. You won't win any style points for that.
Fashion Style: Quirky + Eclectic
Admit it, you're known for being the spontaneous, adventure seeking guy in your group. 'Ya know, the guy who's always up for a good time? Well, let's have a little fun with that this New Year's, shall we? It's time play up your fun personality with your fashion choices! How bold you get will entirely depend on you, but don't be afraid to make a statement. A vibrantly colored suit? A printed blazer? Even a bold pocket square and tie will have quite the impact. And hey, if you're feeling extra bold, copy the ladies in your group and opt for some sequins. You've never been afraid to be the center of attention before, right? Why start now?
Style Tips
If you're truly going to go for a quirky and eclectic look on New Year's, really commit. There's nothing more awkward than an outfit that only gets halfway there. You have to be truly fearless, and just go for it!

Yes, you absolutely can throw on some super cool shades if you're going for this style. People know you don't take yourself too seriously, and that's why you can pull this off.

Bow ties are your secret weapon, regardless of color or print. Black always works, but for the holidays, we absolutely love a bow tie in plaid or velvet, as shown above.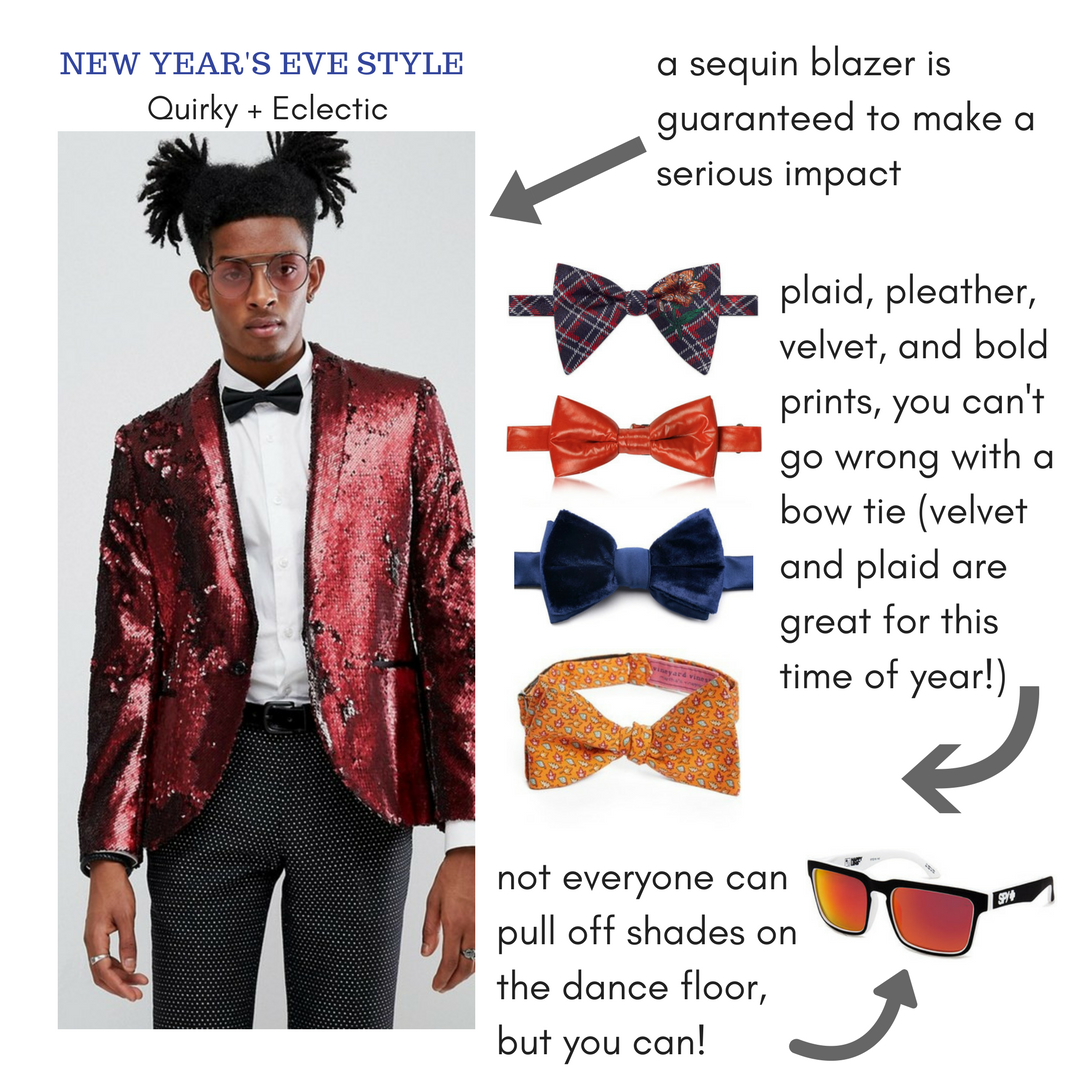 Fashion Style: Edgy + Raw
You've always been a little rough around the edges, right? Nothing wrong with that! In fact, your style automatically gives you a fashion edge without you even having to try. Not a bad deal. For you, there's a couple tips you might want to take a look at below, but really, the main thing you'll want to be concerned about is your grooming. If you're going for an edgy and raw look on New Year's Eve, you'll want to achieve that ruggedly handsome vibe. Get your haircut, and give yourself a good shave, but keep it a little rough. You don't want to look too done up, or that just ruins your whole style. For you, it's going to be all about that balance. Use some of our style tips below to achieve the ultimate edgy and raw look for New Year's Eve.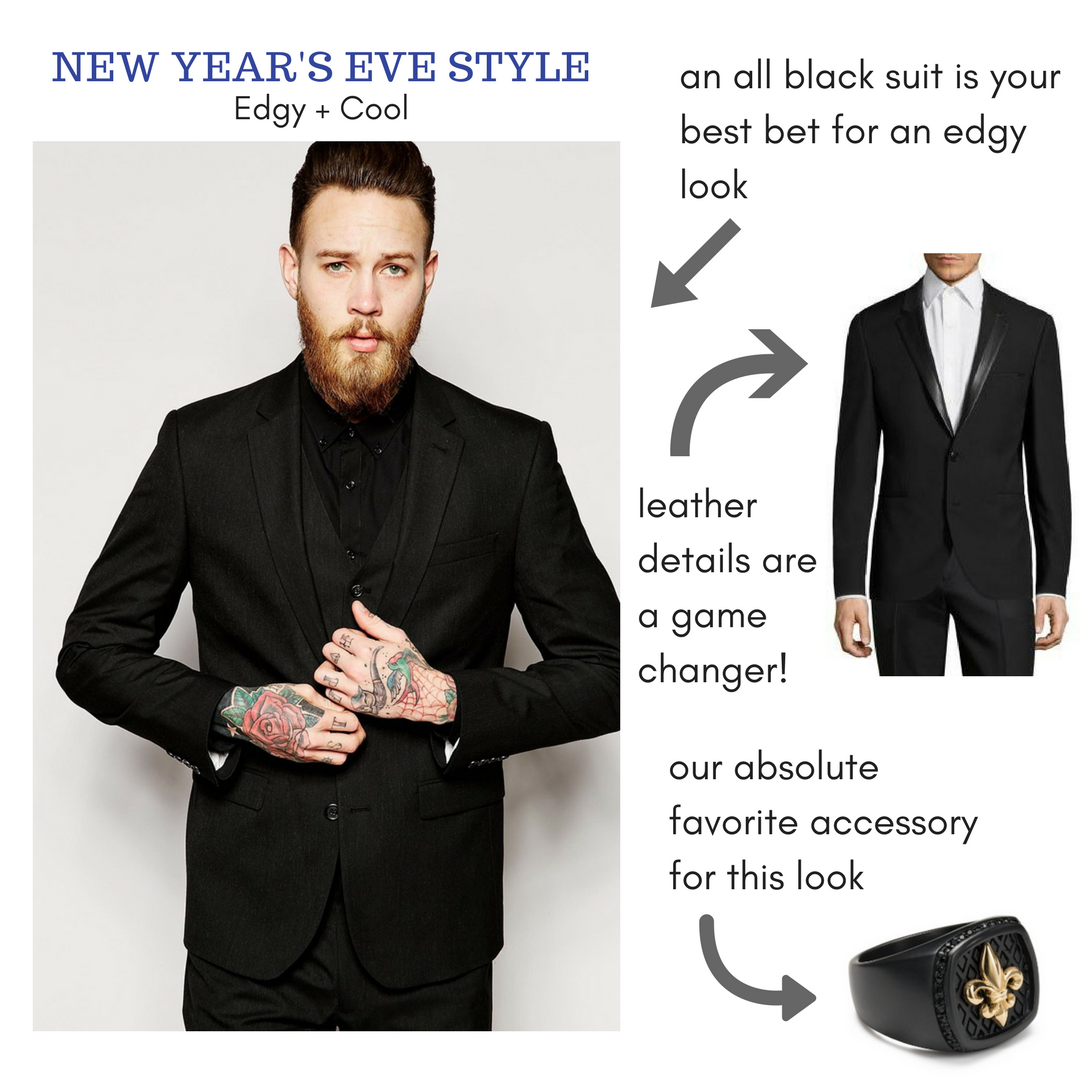 Style Tips
An all black suit is the perfect outfit for an edgy and raw look: black tie, black shoes, black jacket, black dress shirt, etc.

Leather details will go a long to way to achieving the edgy and raw look. If you can get a suit that has a leather trim, you've hit the jackpot.

If you want to add some color, red is perfect. Red and black is not only an edgy color pairing, it's also festively appropriate.

We have to admit, our Fleur-de-lis Ring (shown above) was made for this look! Slip it on, and it brings your outfit to a whole new (edgy) level. It's that easy.

Fashion Style: Trendy + Sauve
If you're a man of fashion, chances are you don't need too much help in the style department. You know what works for you, and you're not afraid to be the most trendy man in the room. For you, style tips aren't particularly necessary. So instead, here's some fashion inspiration that we hope can give you a little injection of style into your New Year's outfit. Don't forget to play up holiday embellishment: some subtle sparkle in your jewelry choices, luxe velvet detailing on your suit, and pops of red are all easy ways you can give your look some holiday flair that nobody saw coming.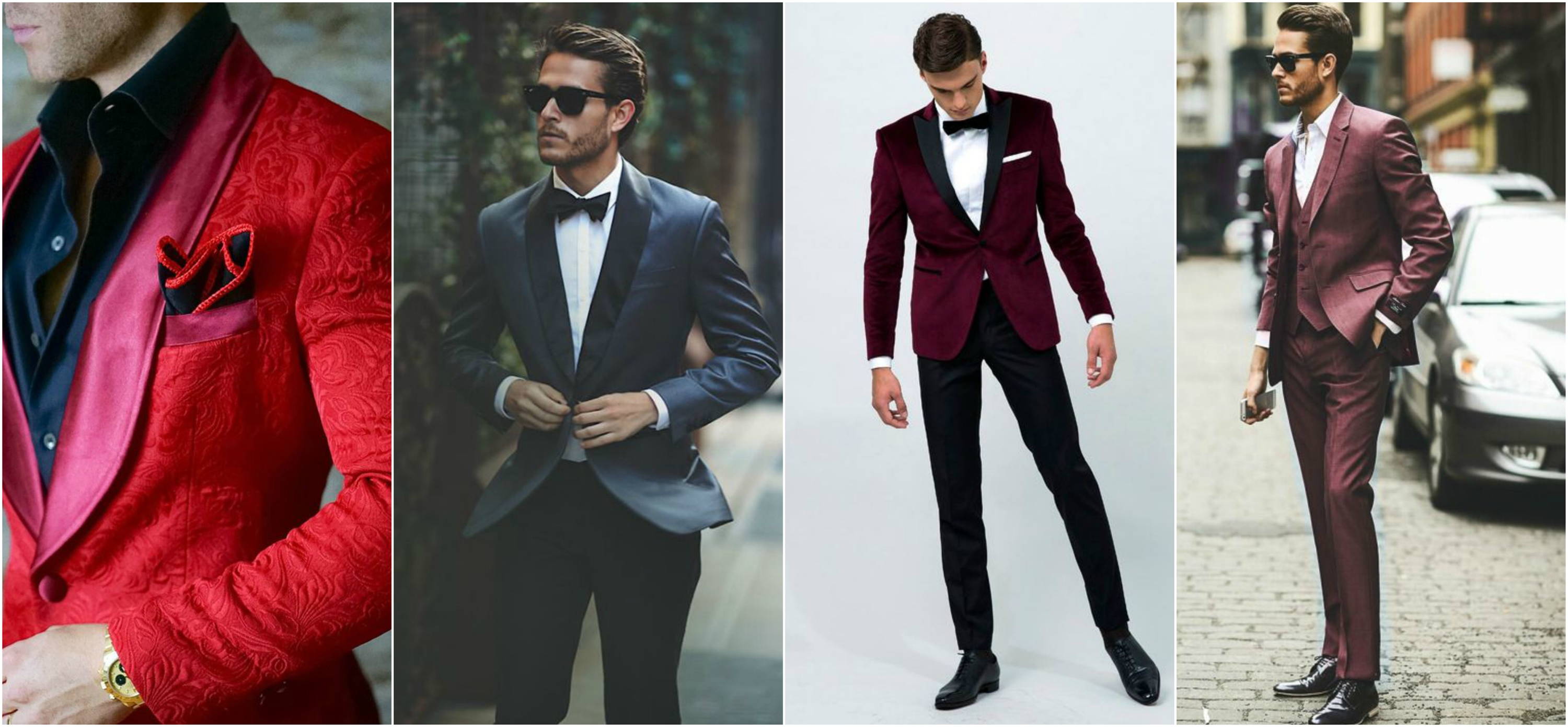 So men, do you have your New Year's Eve outfits ready yet? Have we inspired you? Remember, no matter what your style preference, fashion is always adaptable. Take trends and styles you're drawn to, and create your own unique look. Because really, when you feel confident in your outfit, that's when it shows.
Time to suit up!